As you go through the Nagayamon Entrance into the Main Greenhouse, you'll find yourself in the paradise with innumerable flowers.
The most impressive flower is tuberous Begonia. New hybrids of upright-stemmed, giant-flowered form of the Begonias that have been bred in the Garden at the aim of largest flower of the world are exhibited here.
1,300 variants of Begonias, mainly tuberous, and 1,000 variants of Fuchsias greet you.
---
Flowers of Begonias in the pond, originally obsolete ones after crossbreeding or fallen ones, flow around slowly.
Completely air-conditionned Main Greenhouse ----- a combination of recent technologies, namely Dutch edifice, Swedish screens, Danish machines and computors for ventilation, and American humidifying system by dry fog ----- is kept comfortable all the year round inside, cool in summer and warm in winter, enabling the Garden to be run throughout the year.
---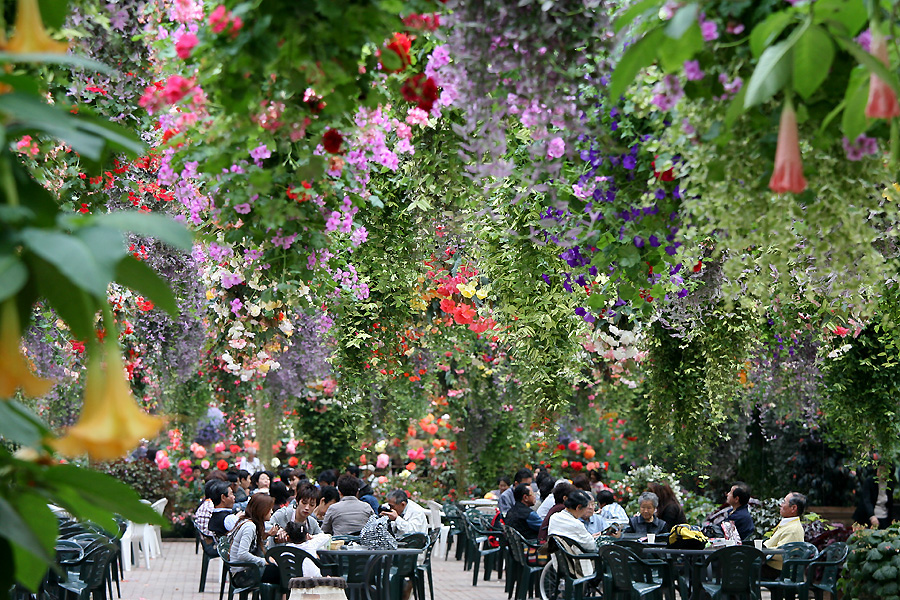 Cafeteria tables under aerial garden of pendulous-stemmed tuberous Begonias in full bloom. The Cafeteria provides you with milks and dairy products from Asagiri Plateau where the Garden is situated in, cakes of the day, snacks etc.. Please have a marvellous day surrounded by flowers.
---
The nursery. Each bed is watered by ebb & flow system, with used fertilised water returned, adjusted into proper nutrition level and reused for neighbouring bed. Watering by human should take a whole day or more.

---
An owl. The Garden exhibits several owls without a cage, perching them on a stand or flying them. The owls in the Garden are so tame that they are not afraid of human even when they are touched, and you can even having the owl perched on your arm or shoulder. These attractions are held everyday, so please check it out.

---
You can take a souvenir picture with an owl in charge of the Owls Show. You can perch it on your arm or shoulder, you can touch it. The owl in this picture is Jaspers the Barn Owl, the most popular owl in the Garden that loves to be touched very much.
---
The Lorikeet Landing cage, as its name suggests, is a place where you can have Australian lorikeets perched on youur arm. As you hold a cup of food in your hand, the lorikeets scramble for food screaming.
Fuji Kachoen
480-1 Nebara, Fujinomiya, Shizuoka, 418-0101 JAPAN
tel +81-544-52-0880
fax +81-544-52-1136
e-mail fuji@kamoltd.co.jp